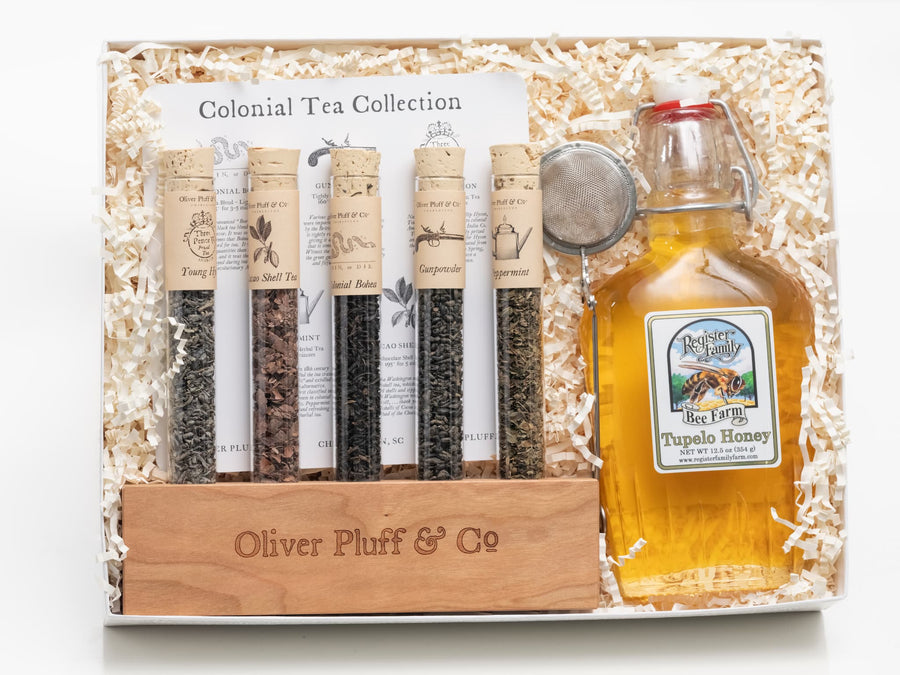 Colonial Tea Gift Box with Tupelo Honey
This unique gift contains some pretty special teas and an interesting story of their history.  We recommend this as a gift for the History lover or Tea Lover in your life. When paired with the Tupelo honey, quality tea really comes to life. The Tupelo Honey is mild and sweet and brings out the individual flavors in the teas. 
This gift box comes with a 12.5 oz swing-top glass Italian Swing-Top Flask of Tupelo Honey. A Tea ball for holding the loose tea, and the Colonial Tea Collection from Oliver Pluff and Company. 
Colonial Tea Collection



Description:
Colonial Bohea tea, (pronounced "Boo-hee" - Ukers 510), was by far the largest tea import during colonial times. Sometimes called Bohea Souchong or Lapsang Bohea, the blend originated in China with trade to the British and Dutch East India Companies. It was so popular that the word bohea became the slang term for tea. The blend varied wildly, consisting of broken orange pekoe, pekoe, and souchong dumped in a pile and then sifted, typically the scrap tea of lower quality leaves, but was considered high quality by the colonists.

Cacao Shell Tea Martha Washington enjoyed drinking cacao shell tea, which she made from roasted shells and sipped at breakfast. George Washington wrote to his agent, "She will, . . . thank you to get 20 Lbs of the shells of Cocoa nuts, if they can be had of the Chocolate makers."   NOTE:  During initial processing and roasting, Cacao Shells may be exposed to  Nuts, Soy, and Dairy.   
Young Hyson: Green tea. Made from young leaves that are thinly rolled to have a long, twisted appearance that unfurls when brewed. Some believe it to have been named after an English tea merchant, Phillip Hyson.  Hyson and Young Hyson tea were highly prized by the colonial Americans and tax on hyson was higher than for other teas.  During the Boston Tea Party there were 70 chests of Hyson destroyed.
Peppermint Jonas Hanway, an 18th century British author, derided tea for its "sundry evils" and extolled herbal tea as an alternative. Peppermint was first classified in 1753, and was grown in colonial American gardens.  
Gunpowder Lightly roasted and tightly rolled green tea- Temple of Heaven grade pinhead gunpowder tea. 
Ingredients: Cacao, green tea leaves, peppermint leaves, orange pekoe, pekoe, black tea leaves

Size/Type: 5 glass tubes filled with approximately 9-15 ounces of loose tea

Shelf Life: 3 Years
Hand packaged by Oliver Pluff & Co in Charleston, South Carolina.
---
We Also Recommend