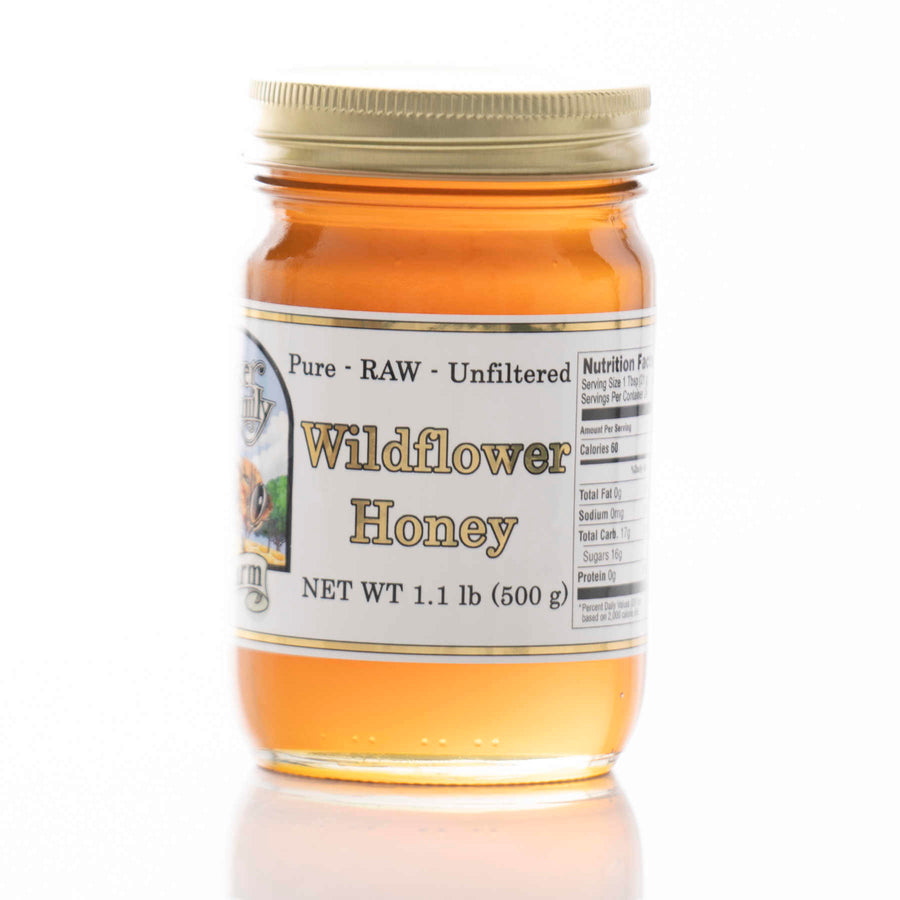 Raw Wildflower Honey - Round Glass Jar
Raw Wildflower Honey – Jar
Wildflower Honey from Northwest Florida

Raw, natural, unpasteurized, never heated

Hand selected, slow to crystallize

Made in the USA by the Register family

Glass jar comes weights 1.1 lbs.
The glass jar comes in 1.1 lb and fits perfectly in your kitchen pantry or on your dining room table. Because it comes with a wide opening, you can to easily spoon out our raw wildflower honey. Make this an ideal gift by adding a 4" wooden dipper to your order (sold separately).
We are very selective in bottling our premium wildflower honey. Only the best tasting and slowest crystalizing honeys we produce make it into bottles with our wildflower honey label. Wildflower honey is gathered from multiple floral sources and can vary in color, taste, and pollen content based on the nectar sources available at the time the honey is stored by the honeybees.
The main benefit gained by the consumption of wildflower honey is the vast array of pollens that your body gains access to. Pollen is most often thought of as just a cause for sneezing and itchy, watering eyes by those allergic to it, but it is also a great source of protein and various beneficial amino acids.
Honey is a great natural and healthy alternative sweetener for many foods and hot drinks such as coffees and teas. Healthy, delicious, and light in color.
Our Premium Wildflower Honey is raw, natural, unfiltered, unpasteurized, never heated honey.
Buy some today and taste the difference.
Wildflower Honey
This is a honey for folks who don't usually like the taste of honey. Much milder than store bought or other types. Good sipped right from the jar. If you have to talk a lot or throat gets raw due to your job this is the ticket. Really an excellent product.
Wonderful!!
High quality candles and wildflower honey. Easy to order, quick delivery. Thank you!
Great quality honey
One of the best honey I had in us! Highly recommended
New customer
I can't say enough good about this company. The honey that they sell is so far and above what you can buy in the store , its not even worth mentioning.
Not only do they have an exceptional set of products, they also have exceptional customer service. I made an error when I placed one of my orders and I sent them an email asking if they could help me fix it. I got an answer right away with pertinent questions. Not long after I answered those questions I got another email saying it's all fixed. I will definitely be doing business with register Farms again.
Good honey
Very sweet and smooth flavor. Very good! Shipped quickly and packed securely.
---
We Also Recommend