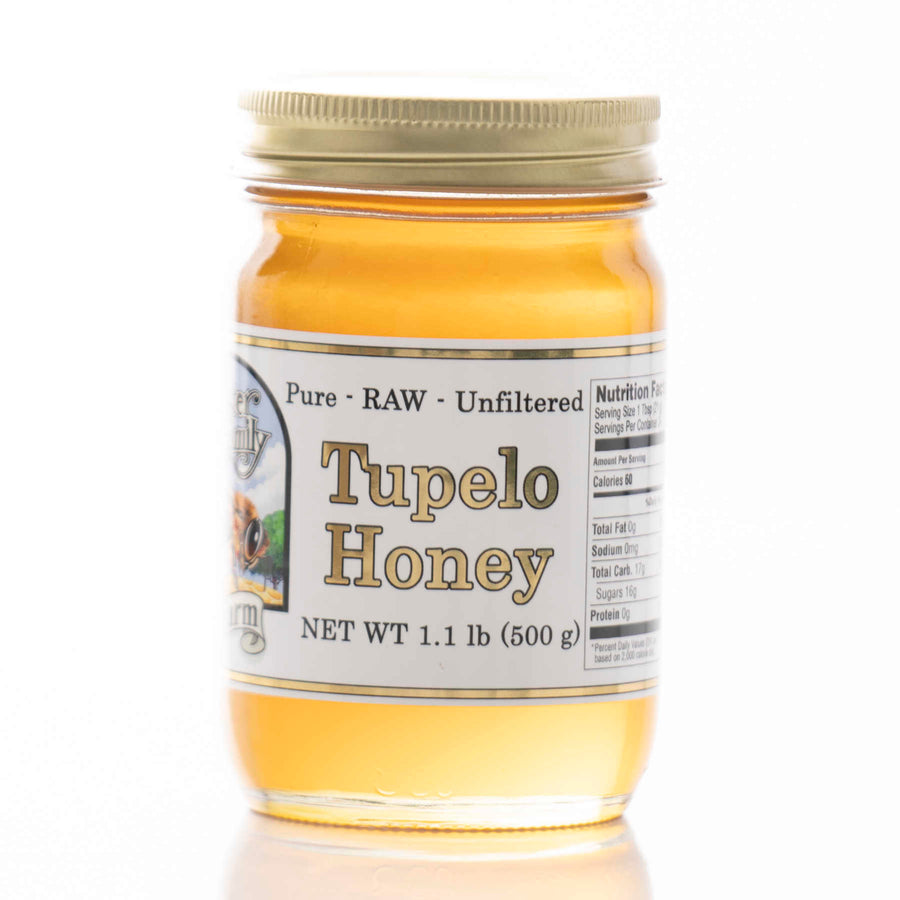 Raw Tupelo Honey - Glass Jar
Raw Tupelo Honey
Tupelo Honey from white Tupelo trees in the Florida Panhandle

Raw, natural, unpasteurized, never heated

Stays liquid, does not crystallize

Made in the USA by the Register family

Glass jar comes weights 1.1 lbs.
The glass jar comes in 1.1 lb and is the perfect addition to your kitchen table or breakfast nook. The opening is wide enough to easily spoon out our delicious honey. Or even better add a 4" wooden dipper to your order (sold separately) for the perfect gift.
Tupelo honey is among the most popular, most beneficial, and best tasting honey in the world. It is unique to the southeastern United State and the highest quality tupelo honey is produced around Register Family Farm from the Apalachicola River to the Choctawhatchee River.
Tupelo has a light, sweet taste with a unique and pleasant aftertaste and it is slow to crystallize. The Tupelo flower only blooms for a short period each spring and the nectar produces a light honey with a green tint if held in the right light and has a unique scent reminiscent of pear.
Tupelo honey has a high fructose to glucose ratio and this makes it great for an energy boost during physical activity. Another advantage to the higher fructose content is that it does not spike your blood sugar as high as other sweeteners, or even other honey.
Buy some today and taste the difference.
The Honey is Great!
The Honey is great, it has a taste unlike any other I've tasted. I also held it up towards the sun the see the greenish tint. You all have out done yourselves. Thanks!
I've sampled several brands of honey lately and Tupelo Honey easily caused the most dramatic involuntary reaction when tasted.
This stuff is so smooth and delicious that my eyes closed and I smiled real big while savoring the first spoonful. And then again with the second spoonful a few minutes later.
This honey has a permanent place on my spice shelf from now on. I'll need to be be ordering more soon!
Excellent Product
Actually this was an add on to an order I placed on line for 2 one pound plastic bottles and 1 two pound plastic squeeze bottle. My daughter and brother are both diabetic and this is the only honey they can have. My grandmother was from Georgia and we all grew up eating tupelo honey it's the best! Great customer service fast and everything arrived in great condition.
Thanks so much!
Excellent
Clean taste. Worth every penny!!
Best Honey Ever!
The Register Tupelo Honey is the real deal. Best Honey I have ever tasted. I will never be out of this great product, I am glad I found this family owned business.
---
We Also Recommend